Order Grazing Boxes in Bulk
3rd Anniversary Promo: Enjoy bulk order discounts from Sept 15 to Dec 23, 2023 only
5% discount on all grazing boxes for purchases of 50 boxes to 99 boxes.
10% discount on all grazing boxes from 100 to 299 boxes
Sign up now until Sept 30, 2023 only to lockin these prices
Contact Us
How to place your bulk orders?
Message us at our Graze and Deli Facebook page for any inquiries by clicking here or call/text us at (0963) 636 3130
1. Choose from our Charcuterie Packages

Pick your preferred charcuterie box from our current selection

2. Talk to our team for any Customization

Easily personalize your bulk order depending on your needs. Our friendly team will assist you with any request

3. Get a Quote

We'll send you a quote based on your request then you can settle for payment afterwards

4. Get your Order Professionally Delivered

Your bulk order will be scheduled and professionally delivered to your event.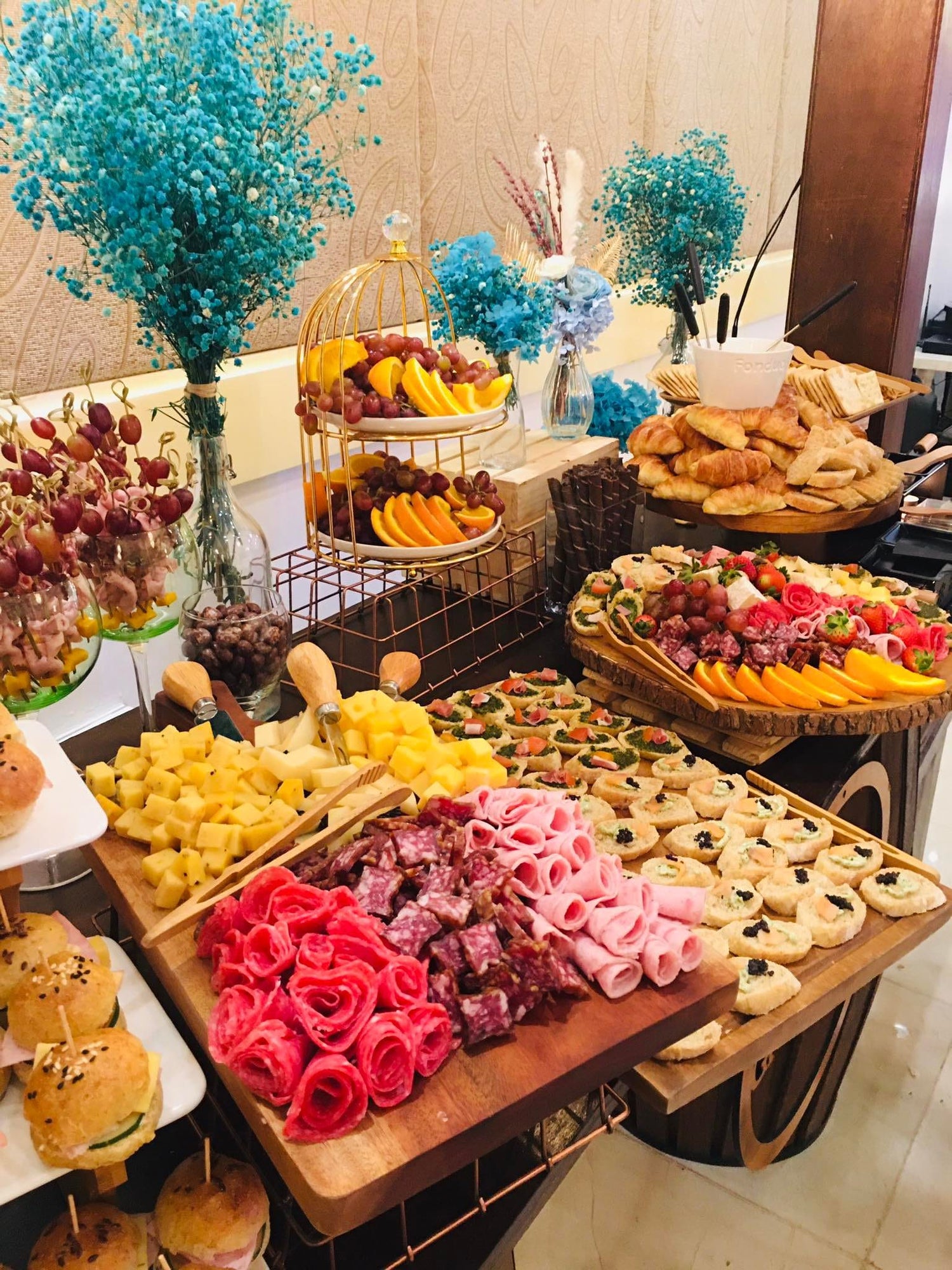 Table Spreads For Catering
Experience an exquisite Charcuterie Banquet by Graze & Deli tailored for unforgettable events
Perfect for: Mini events, weddings and corporate parties
Starts at: P17,000 for 30pax
Lead Time: 2 weeks
Contact Us
Table Spreads FAQs
Standard prices

30 pax - P17,000

50 pax - P22,000

70 pax - P28,250

100 pax - P37,000
Package Inclusions

3 kinds of canapes/sliders
3 kinds of meat
4 kinds of cheese
3 kinds of crackers
3 kinds of dips
seasonal fruits
cheese fondue
charcuterie skewers
pickles, chocolates, nuts, waffles, bread sticks, pretzels, wooden boats, bamboo forks
Table spread set up and design
Add ons available

Caviar Dip for 30 pax (+P5,850)
Wine Nook for 30 pax (+P5,000)
Desserts Corner for 30 pax (+P6,000)
Pasta Add on 2 sauces for 30 pax (+P6,000)
Juice add on for 50 pax (P3,500)
Brewed Coffee Add on for 50 pax (+P3,500)
Styling add on

Additional styling will depend on theme and budget
Posh Package Add on

For 30 pax
2 Pasta sauces
2 caviar dip
Wine nook
Total package +P12,000
Important information

Includes 3 hours of serving time
50 to 70 pax with one server
We provide receipts
Transporation fee not yet included and starts at P3,000 depending on area
More details on contract
Customized Orders for Corporate Giveaways
Elevate Your Corporate Gifting with Customized Charcuterie Boxes!
5% discount on all grazing boxes for purchases of 50 boxes to 99 boxes.
10% discount on all grazing boxes from 100 to 299 boxes
Limited time offer: Sept 15 to Dec 23, 2023 only
Get Quote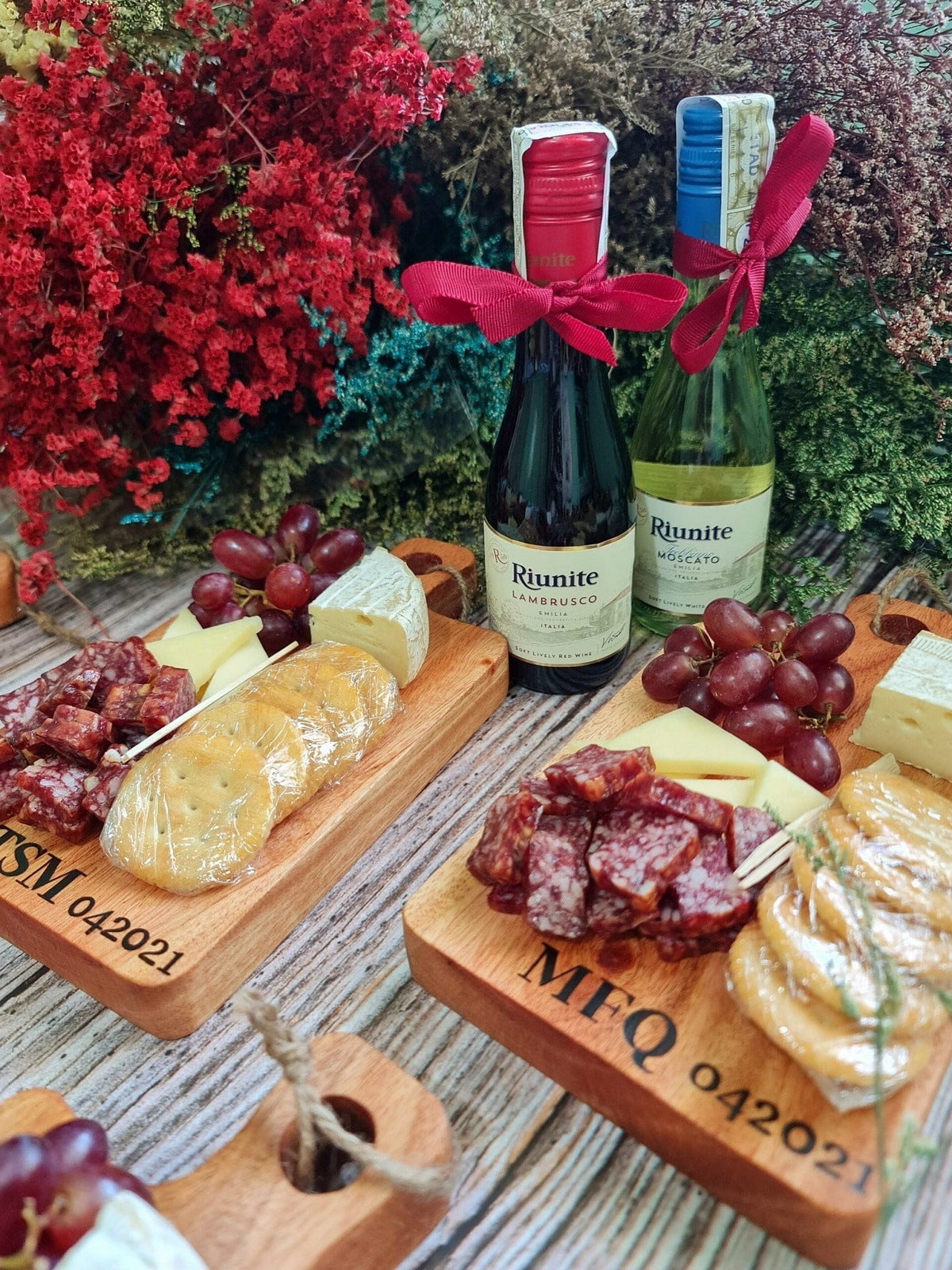 Mini Platters
Experience a curated blend of artisanal cheeses and exquisite accompaniments in our individually-packaged Cheeseboard Platter, perfect for personal indulgence or as a thoughtful gift for any occasion.
Starts at: P750 per platter (min. order of 10)
Perfect for: intimate gatherings and giveaways
Good for: 10+ pax
Lead time: 10 days (12-15 days for customized)
Individually packed
Comes with a cheeseboard
For events, it is best to partner it with our table styling package minimum of 1,500php per table.
The PLATTER could be both for delivery and physical set up.
Get a Quote